A few words about the product
The spicy Piccalilly sauce! One of our favourite, award-winning products, which took over the judges with its amazing taste in the Specialists Awards 2021 contest, gaining the bronze award in the category of "new product". Piccalilli, is an amazing sauce, based on chopped pickled vegetables and mustard, well known in Great Britain. Accompanies many dishes and fascinates with its characteristic spicy taste.
Made with 100% Greek raw materials.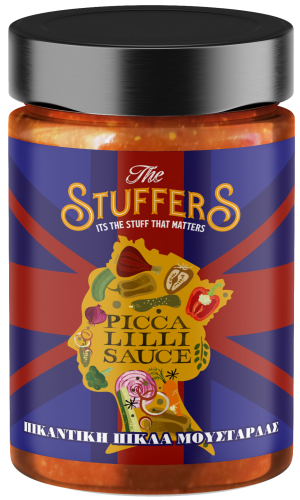 Type: 314 ml glass jar
Shelf-life: 24 months
Item code: 00443
Unit: Carton
Barcode: 5200250477002
Items/Cartons: 12
Drained weight: -
Carton weight: 6,28 kg
Net weight: 320 gr
Cartons/layer:

 12

Gross weight: 510 gr

Layers/pallet: 10
Storage conditions: Shadow & cool part < 25°C
Cartons/pallet: 120
Transportation conditions: Shadow & cool part < 25°C
Pallet's weight: 754 kg
Packaging dimensions: 7,5x7,5x11 (LxWxH)
Pallet's height: 1,35 m

Box dimensions: 30x23,3x11,6 (LxWxH)