A few words about the product
Pickles like you' ve never tasted before! One of our favorite, award-winning products, won the Specialist Awards of the Gourmet Exhibition 2019, the third prize in the taste category, among 300 products.
A product that from the first day of its release managed to gain fanatical fans. The ideal pickle for a burger, crunchy, sweet and sour, unique in Greece, made with the authentic American recipe!
Made from 100% Greek raw materials, without the addition of preservatives.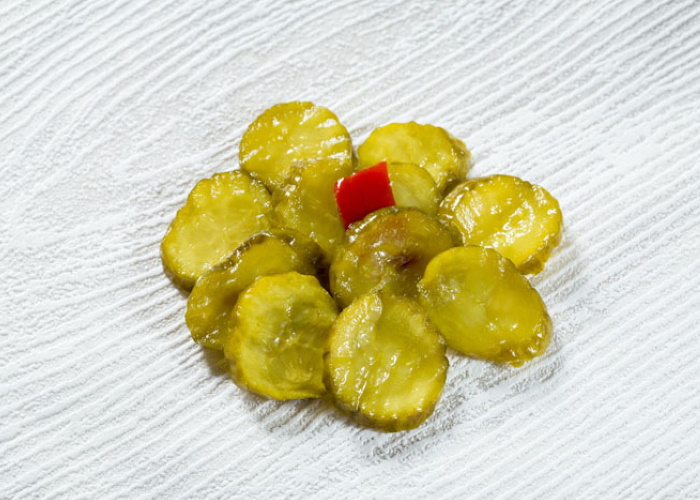 Type: 314 ml glass jar
Shelf-life: 24 months
Item code: 00600
Unit: Carton
Barcode: 5200250474735
Items/Cartons: 12
Drained weight: 180 gr
Carton weight: 7,24 kg
Net weight: 330 gr
Cartons/layer:

 12

Gross weight: 590 gr

Layers/pallet: 10
Storage Conditions: Shadow & cool part < 25°C
Cartons/pallet: 120

Transportation Conditions: Shadow & cool part < 25°C
Pallet's weight: 869 kg
Packaging Dimensions: 7,5x7,5x11 (LxWxH)
Pallet's height: 1,35 m
Box Dimensions: 30x23,3x11,6 (LxWxH)
 
| | |
| --- | --- |
| Type: 1700 ml glass jar | Unit: Carton |
| Item code: 00713 | Items/Cartons: 4 |
| Barcode: 5200250476029 | Carton weight: 8,74 kg |
| Drained weight: 1000 gr | Cartons/layer: 12 |
| Net weight: 1580 gr | Layers/pallet: 7 |
| Gross weight: 2120 gr | Cartons/pallet: 84 |
| Shelf-life: 24 months | Pallet's weight: 735 kg |
| Dimensions: 11,5x11,5x19,3 (LxWxH) | Pallet's height: 1,65 m |