A few words about the product
Lagadas Farm® after months of testing and with its well-known and unparalleled quality brings to the Greek market - an innovative product - that will be discussed! "Fresh" Cabbage, Raw Sauerkraut, as it is known all over the world. "Fresh" because it has not undergone any heat procedures (boiling or pasteurization), thus keeping unchanged all its nutrients and its high concentration in probiotics. A product produced from Greek raw materials, with the absolute natural process of fermentation for at least 4 weeks.
A product without preservatives and additives
Ultimate source of natural probiotics (lactobacilli genus Ladobacillus).
Rich in fiber, iron and calcium.
Rich in Vitamins A, C, K and minerals magnesium, phosphorus, potassium.
Supports the proper functioning of the intestine.
Reduces stress and improves brain function.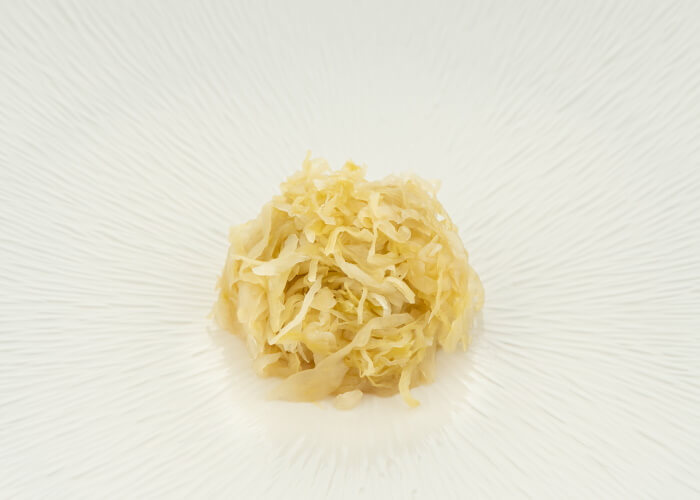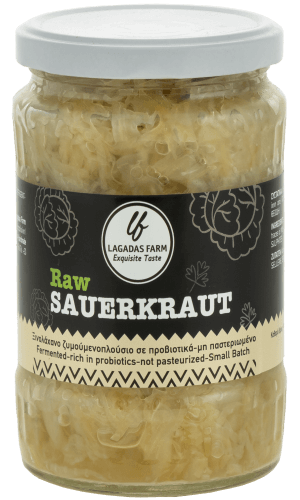 | | |
| --- | --- |
| Item code: 00745 | Packaging unit: Carton |
| Barcode: 5200250475893 | Items/Cartons: 12 |
| Packaging type: 580ml Glass jar | Carton weight: 9,95kg |
| Drained weight: 450 gr | Cartons per layer: 8 |
| Net weightς: 520 gr | Layers per pallet: 9 |
| Gross weight: 810 gr | Cartons per pallet: 72 |
| Shelf-life: 8 months | Pallet's weight: 740kg |
| Package dimensions in cm: 8,5x8,5x13 (LxWxH) | Pallet's height: 1,45m |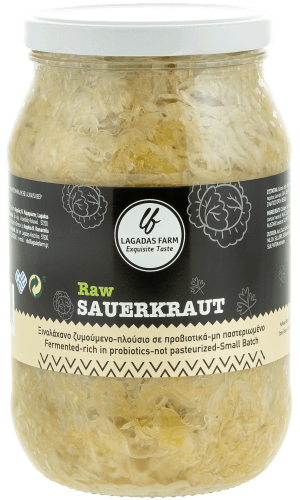 | | |
| --- | --- |
| Item code: 00712 | Packaging unit: Carton |
| Barcode: 5200250475961 | Items/Cartons: 4 |
| Packaging type: 1700ml Glass jar | Carton weight: 8,700 kg |
| Drained weight: 1200 gr | Cartons per layer: 12 |
| Net weightς: 1540 gr | Layers per pallet: 7 |
| Gross weight: 2110 gr | Cartons per pallet: 84 |
| Shelf-life: 24 months | Pallet's weight: 731kg |
| Package dimensions in cm: 11,5x11,5x19,3 (LxWxH) | Pallet's height: 1,65m |