GREEN PEPPER STUFFED WITH BLUE CHEESE
A few words about the product
Green pepper with blue cheese is a mix of Greek and Mediterranean cuisine. It is slightly spicy, which blends perfectly with the distinctive taste of blue cheese which is intense and salty.
Hot peppers help you eat less and feel full longer.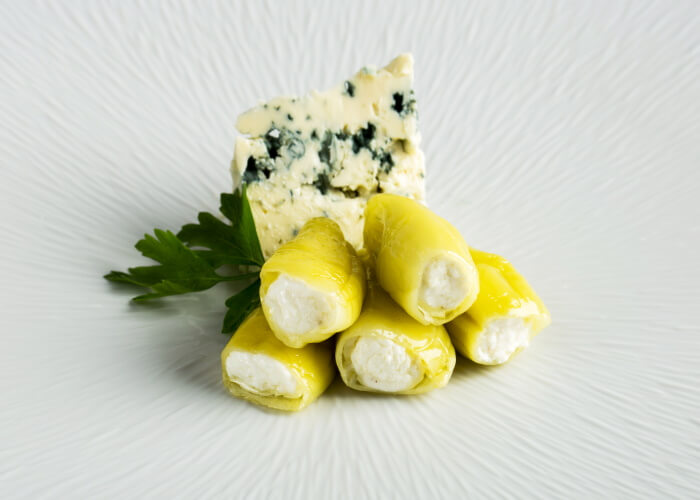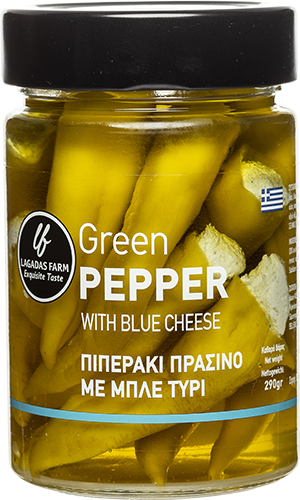 Ingredients used for its production
Green pepper
First Quality Blue Cheese
Sunflower oil
Spices

| | |
| --- | --- |
| Nutrition value | per 100g |
| Energy (kJ/kcal) | 180kcal/744kj |
| Fat (g) | 15g |
| Saturated (g) | 5,1g |
| Carbohydrate (g) | 3,6g |
| Sugars (g) | 0g |
| Fibre (g) | 1,5g |
| Protein (g) | 8,3g |
| Salt (g) | 3,5g |
Item code: 00594

Items/cartons: 12

Barcode: 5200250473479

Carton weight: 6,28kg

Packaging type: 314ml Glass jar
Cartons per layer: 12
Drained weight: 140gr
Layers per pallet:

 10

Net weightς: 270gr
Cartons per pallet: 120
Gross weight: 510gr

Pallet's weight: 754kg
Package dimensions in cm: 7,5x7,5x11 (LxWxH)
Pallet's height: 1,35m
Shelf-life: 24 months
 
Η LAGADAS FARM® παράγει τουρσιά, ορεκτικά και παραδοσιακές νοστιμιές.
Τα προϊόντα μας είναι χειροποίητα, ακριβώς γιατί μας ενδιαφέρει η ποιότητα και όχι η ποσότητα. Η LAGADAS FARM®, παραμένοντας πιστή στις σπιτικές γεύσεις, λειτουργεί παραδοσιακά και καινοτόμα και δεν προδίδει την ποιότητα για το κέρδος της βιομηχανικής παραγωγής.